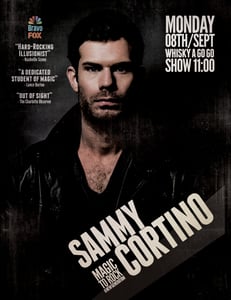 $

10.75 - On Sale
Part magic show, part rock concert, Sammy Cortino has been described as Jimmy Page meets David Blaine. As one of the youngest international award-winning magicians in history, he was identified as "a dedicated student of magic" by Master Magician Lance Burton.
These are tickets for Sammy's upcoming show at the legendary Whisky A Go Go on September 8th in West Hollywood, CA. His 30 minute set starts at 11:00PM and the doors open at 7:00, when the evening starts with a variety of music artists, including Bruce Thomas and Sunday Drive.
Never before seen magic effects will be performed at this event, so be sure to catch this show to see how Sammy is driving magic into the future.
Tickets to be picked up at Whisky A Go Go on show day when the doors open.
http://www.whiskyagogo.com/site/event/mr-denton-on-doomsday-bruce-thomas-instinct/